Olive oil prices have skyrocketed to record levels due to worldwide product scarcity caused by the spring 2022 drought and heatwaves in Spain, the world's largest olive oil producer.
Averaging 1.5 million tons per year or 50% of world production, Spain had a devastating production cut, down to 780K tons in 2022/23, as reported by the International Olive Council (IOC)[1].  Italy also suffered its worst drought in 70 years in 2022, and Portugal with 40% less production than in 2021/22, further reduced EU and worldwide olive oil stocks as reported by the European Commission[2]
Product scarcity pushed prices up at record high levels as reported by CNBC[3] ranging of 6-7 euro/Kg at farmer level, more than double from April 2022.
Only the EU's third largest producer, Greece, was not hit by the weather conditions, but does not produce enough to offset the decline in Spain, and prices of olive oil at farmer level are currently in the range of 6 euro/Kg and rising.
Without rainfall throughout the Mediterranean region, we will continue to see historically elevated prices throughout the next 2023/24 harvest year. Inflation, the Ukraine war causing sunflower oil price increase, rising packaging material costs, production, energy, as well as farming costs will also add to this effect.
At AGROVIM SA, home of the 100% GREEK, ILIADA olive oil and table olives, we understand the importance of affordable and high-quality product to our customers.  Hence, despite these challenges, we are committed to continue to provide the finest olive oil and table olive products from GREECE, at the most competitive prices possible to all 56 countries we are present.
This is only made possible through long-term trusting relations with our farmers numbering over 6.000 families, and the application of sustainability and cost mitigation strategies in all operations. Thank you for your trust in AGROVIM SA and our multi awarded ILIADA Extra Virgin Olive Oil.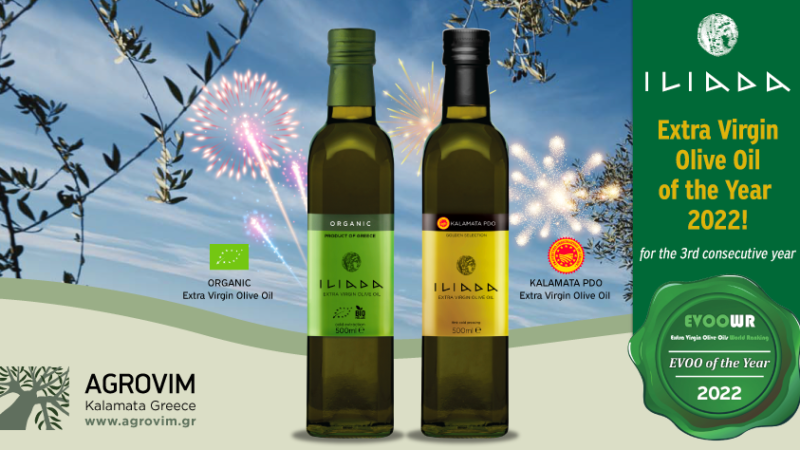 [1] https://www.internationaloliveoil.org/wp-content/uploads/2022/12/HO-CE901-13-12-2022-P.pdf
[2] https://agriculture.ec.europa.eu/system/files/2023-04/market-situation-olive-oil-table-olives_en.pdf
[3] https://www.cnbc.com/2023/05/04/olive-oil-prices-hit-record-highs-due-to-bad-weather-in-spain.html